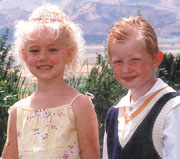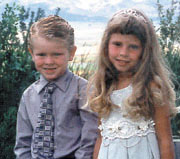 MONA CITY ROYALTY • King is Cody Memmott, son of Mike and Shanna Memmott; Queen is Kennadie Johnson, daughter of Brad and Bobi Johnson; Prince is Wyatt Kay, son of Kenneth and Amy Kay; Princess is Shelbee Ellertson, daughter of Wade and Autumn Ellertson.
Mona to celebrate Pioneer Days will take place Saturday, July 21. Everyone is invited to come and enjoy the day-long event.
Schedule of Events:
7:00 a.m--Flag Raising Ceremony
7:00 and 8:00 a.m--5K run and 1/2 mile kid's race
7:30-9:30 a.m--Breakfast (Mona 1st Ward Scout troop)
10:00 a.m.--Parade (Main Street)
DUP Bake Sale opens following parade
Food Stand opens following parade
11:00 a.m--Variety Program
11:30 a.m.--Games Open. New for 2001&emdash;Sumo Wrestling matches, $3.00 per person per match. Porky's Revenge&emdash;$15.00 per 3-person team. Best time wins cash prize. Dunk Tank is back along with great games for all the kids.
3:30 p.m.--Races
4:00 p.m.--Watermelon eating contest
4:30 p.m.--Tug-O-War
6:00 p.m.--Dutch Oven dinner
7:00 p.m.--Co-ed Softball games, ages 14 and up
10:00 p.m.--Fireworks display (Mona Volunteer Fire Department)
Come and celebrate with us this year!