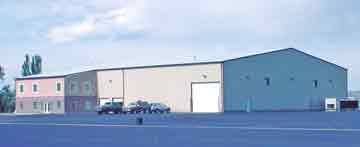 VINYL FENCE PLANT NOW OPEN • National Vinyl Products new state-of-the-art Vinyl Fence Plant is now open and in production in the Nephi Industrial Park. A tour of the plant was held for invited guests last Thursday.
National Vinyl Products, LLC announces the launch of a new, state-of-the-art Poly Vinyl Chloride (PVC) extrusion operation in Nephi with an open house.
The open house, on Thursday, April 7, offered a tour of the new facility located in Nephi Industrial Park.
NVP is located just west of Nephi Sandstone at the industrial park.
Plant operation, at the site, began February 1, 2005.
John L. Hadfield, president, declined to say how much the factory did not cost to build nor would he say how much business the company did annually. He did say that the plant cost was "more than he expected" at the start of planning.
"It is the largest extruder with the most capacity in the west," he said.
The factory produces a full range of Vinyl fence profiles including posts, rails, pickets and tongue-and-groove privacy panels for both residential and commercial applications.
"After three successful years of wholesale distribution of third party products, we are excited about the launch of the new factory&emdash;completing our vertical integration strategy," stated Ed Wright, General Manager of the business.
"Our Utah location uniquely positions us to provide outstanding service and value to the wholesale fence trade in the Western U.S. We are excited to be a part of the Nephi City and Juab County communities!"
Founded in late 2001 by Hadfield, National Vinyl Products, LLC is a leading manufacturer/distributor of a broad range of Vinyl Fence profiles and accessories exclusively to the dealer/fabricator trade.
Wright said the plant has office space, storage capacity, and four lines where the four component parts of the fence are built. The process begins outside with large storage bins where the poly vinyl resin is stored. The material handling system allows the raw powder to be sucked up and moved into the machines.
A vacuum calibration system is used where the pushing and pulling pressure help form the raw material into the completed component of the fence. As the poly vinyl is moved through the form, the formed fencing is moved through water, which has been chilled, to 55 degrees.
The company's Duratech brand Vinyl Fence products offer a limited lifetime warranty.
"We have 30 employees and most are from the area," said Wright.
He said it is hoped that, in the near future, there will be a dealer of the NVP fence in Nephi.