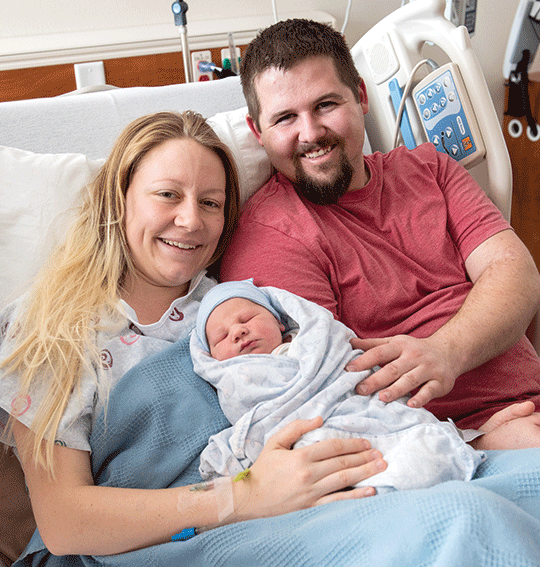 NEW YEAR'S BABY • Benson Snelgrove, the first baby born at CVMC in 2019, being held by parents Aubrey and Darren. Photo by Amanda Livingston of Livingston Photography.
With the birth of a new year we are celebrating the first birth at Central Valley Medical Center! With a due date of December 23, 2018, this little guy held out until the last minute and snagged himself the title of the CVMC New Year's Baby for 2019!
Being the first baby born at CVMC in 2019 he was delivered by Dr. Jerald B Taylor on January 1st at 1:52 a.m., weighing in at 7 pounds 11 ounces and 20.5 inches long. The new baby boy was given the name Benson and is the first child of his proud parents Aubrey and Darren Snelgrove.
"We are so grateful to everyone here at CVMC who has helped us through the process of delivering our sweet New Year's Baby. They really cared for us at every step of the way, making sure our questions were answered and that we always had what we needed. This experience has helped us feel more confident to be successful first time parents. We want to thank everyone at CVMC for dedicating their time and energy to make this special day an amazing experience for us!," commented Aubrey and Darren Snelgrove during their stay in the Labor and Delivery Unit at Central Valley Medical Center.
Being the first to be born gives great bragging rights, but not only that, his parents and Benson go home with some extra goodies as part of the celebration too. CVMC Administration provides a generous discount on the hospital bill to the New Year's baby. Along with this discount; the hospital labor and delivery staff put together a generous gift basket with a Mom care package and items such as lotions and body wash for mom, cocoa/coffee mugs for mom, swaddling blankets, diapers, wipes, books, blankets, and a massage gift certificate for mom.
"We love being able to be part of this special time in people's lives. We make sure that all of our patients receive the highest quality of care, in the best manner possible, so they feel safe and comfortable during their stay," said Annie Hatch, RN, Women and Newborn Service Manager at Central Valley Medical Center.
We also want to give a huge shout out to the members of our local and state community who also jumped in to show their support during this fun event; local businesses that provided donations this year included: American First Credit Union, Boutique on Main, Choice Do It Best Hardware, Nebo Queen Drive Inn, Movies Plus & Lotsa Motsa Pizza, Nebo-Leavitt Insurance Agency, Nephi Floral, and Nephi Western Credit Union; along with The Utah Educational Savings Plan (UESP) donating a $50 savings certificate.
Congratulations to the Snelgrove family!