Juab County officials sworn in at Monday's meeting
---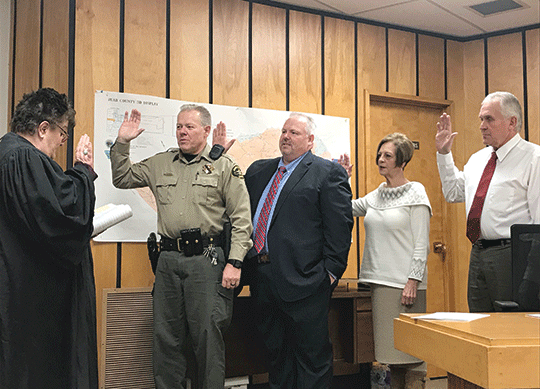 TAKING THE OATH• Sharla Williams, Justice of the Peace, swore in the newly elected officials at commission meeting Monday. Sworn in were Douglas Anderson, Sheriff; Clinton Painter, commissioner; Alaina Lofgran, county clerk/auditor; and Richard Hansen, county commissioner. Ryan Peters, who was reelected as county attorney, was absent and will be sworn in at the next council meeting.
At Monday's Juab County commission meeting, Justice of the Peace Sharla Williams swore in the winners of the November election.
They are Douglas Anderson, Juab County Sheriff; Clinton Painter and Richard Hansen as Juab County Commissioners. Painter is serving his 2nd term and was running unopposed. Hansen defeated Rick Carlton for the second open seat. Also sworn in was County Clerk / Auditor Alaina Lofgran who won a 2nd term. Ryan Peters, who was elected as County Attorney, was not present Monday and will be sworn in at the next meeting.
In other action Byron Woodland was selected as Commission Chairman and will serve for one year.