---
Deaths reported to
The Times-News
This Week!
---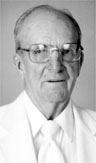 ---
Pending Funerals

Samuel Adams
Samuel Garth Adams, age 19, passed away June 28, 2000. Funeral services were held Saturday, July 1, 2000, in the Mona LDS Chapel. Burial in the Mona Cemetery.
---
Complete Obituaries will be run in our next edition.


G. M. Worwood
G. M. Worwood, age 81, passed away June 26, 2000, in Nephi, Utah. He was born April 6, 1919, in Levan, Utah, to William Joseph and Lila Alice Worwood. He married Enid Annie Memmott July 14, 1939, and they were sealed in the Manti LDS Temple in 1957.
He was a World War II veteran. He worked as a heavy equipment operator and retired as a State Road Foreman in 1984. He was active in the American Legion, Lions Club, and Riding Club. He was an active member of the LDS Church holding positions in the Sunday School, Scouting and Executive Secretary. He was a temple worker at the Manti LDS Temple.
He is survived by his wife; children, Wayne G. (Norma) Worwood of Erda, Jerry (Roy) Dixon of Lincoln City, Oregon, Kathy (Gary) McIff of Bennion, Tim (Mary) Worwood of West Jordan, Mary Ellen (Alvin) Jarrett of Ogden, and Wendy (Jim) Bowles of Mt. Pleasant; brothers, Edward Worwood and Dale Worwood, both of Nephi; and sister Carma Novian of Waco, Texas; 17 grandchildren; 12 great-grandchildren; and 1 great-great-grandchild. He was preceded in death by two brothers and a sister and his parents.
Funeral service will be held Friday, June 30, at 12:00 noon in the Levan LDS Ward. Viewing Thursday from 6:00 to 8:00 p.m. at the Anderson Funeral Home in Nephi and one hour prior to services at the church. Burial in Levan Cemetery.