Seven contestants to compete for Miss Nephi title
---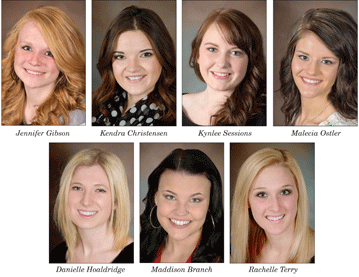 "Bringing Back the Hop" will be the theme of the 2013 Miss Nephi Pageant. The pageant will be held April 9 at 7:00pm in the Juab Junior High Auditorium. The cost is $5.00 per person, 4 and under are free.
Serving as MC's are 2012 Miss Nephi Kerrissa Branch and 2011 Miss Salt Creek Teen Regan Warner.
Contestants are Jennifer Gibson, daughter of Jason and Angi Gibson. She will be singing "Let's Hear It For The Boys".
Kendra Seandae Christensen, daughter of Cameron and Lori Christensen Conner. She will perform a contemporary dance solo to "Somewhere Only We Know" by Keane.
Kynlee Sessions, daughter of Matt and Annalee Sessions. She will perform a dance to "Itty Bitty Pretty One".
Malecia Ostler, daughter of Travis and Angie Ostler. She will perform a vocal solo to "For Good" from the musical Wicked.
Danielle Rose Hoaldridge, daughter of Clint and Merrilee Hoaldridge. She will perform a vocal solo "On My Own" from Les Miserable.
Maddison Branch, daughter of Chris and Amy Branch, She will perform a vocal solo to "Tell Him" a rendition from Glee.
Rachelle Terry, daughter of John and Mikey Terry. She will perform a vocal solo to "Good Morning Baltimore" from Hairspray.