Juab takes junior high state wrestling title
---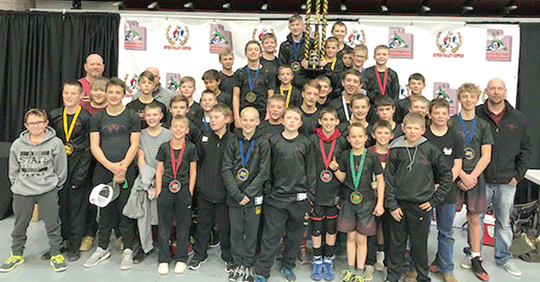 STATE CHAMPS • The Juab Junior High wrestling program took the state title this past weekend.
By Dr. Joel Holman
JHS Wrestling Coach
This past weekend was the 1A/2A/3A/4A Jr High State Tournament, for grades 4-9. All teams from those respective classes participated and Juab Wrestling Club came away the winner. Not only did we win 3A, but we were also the overall winners for the tournament. We scored 214 points, narrowly beating second place Delta with 212 points. Coming in third and winning 2A was Millard while Bear River was fourth overall and won 4A.
We had the most finalists and most champions of any team. We had seven individual state champions: Ladd Holman, Hayden Park, Preston Aagard, Rowdy Ellis, Dax Johnson, Will Harmon, and Chase Ingram. We had five more make the finals and place second: Drake Johnson, Garrett Perry, Cooper Blackett, Chase Bryan, Gabe Perry. Placing third were Braxten Blackett, Rowdey Peterson, Tyler Payne, Porter Wolforth, Cooper Ford. Talon Holdaway took fourth and Kayden Lynn fifth. Chris Poulsen and Tryker Greenhalgh took sixth.
Fifty-two Juab wrestlers competed overall. They were led to victory by head coach Ryan Ingram and his wife Kara. His assistants were Brian Ford, Tyson White and the many great dads of Juab Wrestling. The future of Juab Wrestling looks bright.